COVID-19: Increasing Production Cost and Its Effect on RMG Sector of Bangladesh
Keywords:
Production cost, RMG, BGMEA, COVID-19, Bangladesh
Abstract
The garments sector of Bangladesh is playing a major role in the growth of the rapidly growing economy of the country. According to World Bank in 1972, the total GDP of Bangladesh was US$29 billion which grew to $173.82 billion in 2014, where $31 billion came from the export sector and 82% of that was the contribution of the RMG sector. This industry is badly affected by the burden of the increased utility bills and unprecedented COVID-19 pandemic. According to BGMEA, international buyers canceled or postponed at least 3.16 billion worth shipments which affected 1142 garments and 2.26 million workers, working in those garments. Therefore, this study is an attempt to find out the effect of increased gas and electricity bills as well as COVID-19 pandemic on RMG sector, consequences of COVID-19 pandemic, condition of workers and owners', steps taken by Government and BGMEA, and the solution and precautionary to avoid such problem in the future. The research tools are the questionnaire for workers, and interview schedule for factory management and owners.  Samples were taken randomly from different levels of management and workers. The study divulges most of the owners and workers are not happy with the government's decision of increasing utility bills especially the electricity bill amid the pandemic was deadly for them. The BGMEA was in dilemma from the very beginning of the pandemic which created more confusion among the workers due to lack of collective decision-making leadership. Terminating workers even after the government's request puts the workers in a tight situation however some garments are not terminating workers and they have no intention to do this in the future. Concluding remarks, the government should give clear instructions to BGMEA about the safety of workers and stop terminating them. To save the industry they should work together, and the government should also reconsider the decision of increasing the gas and electricity bill.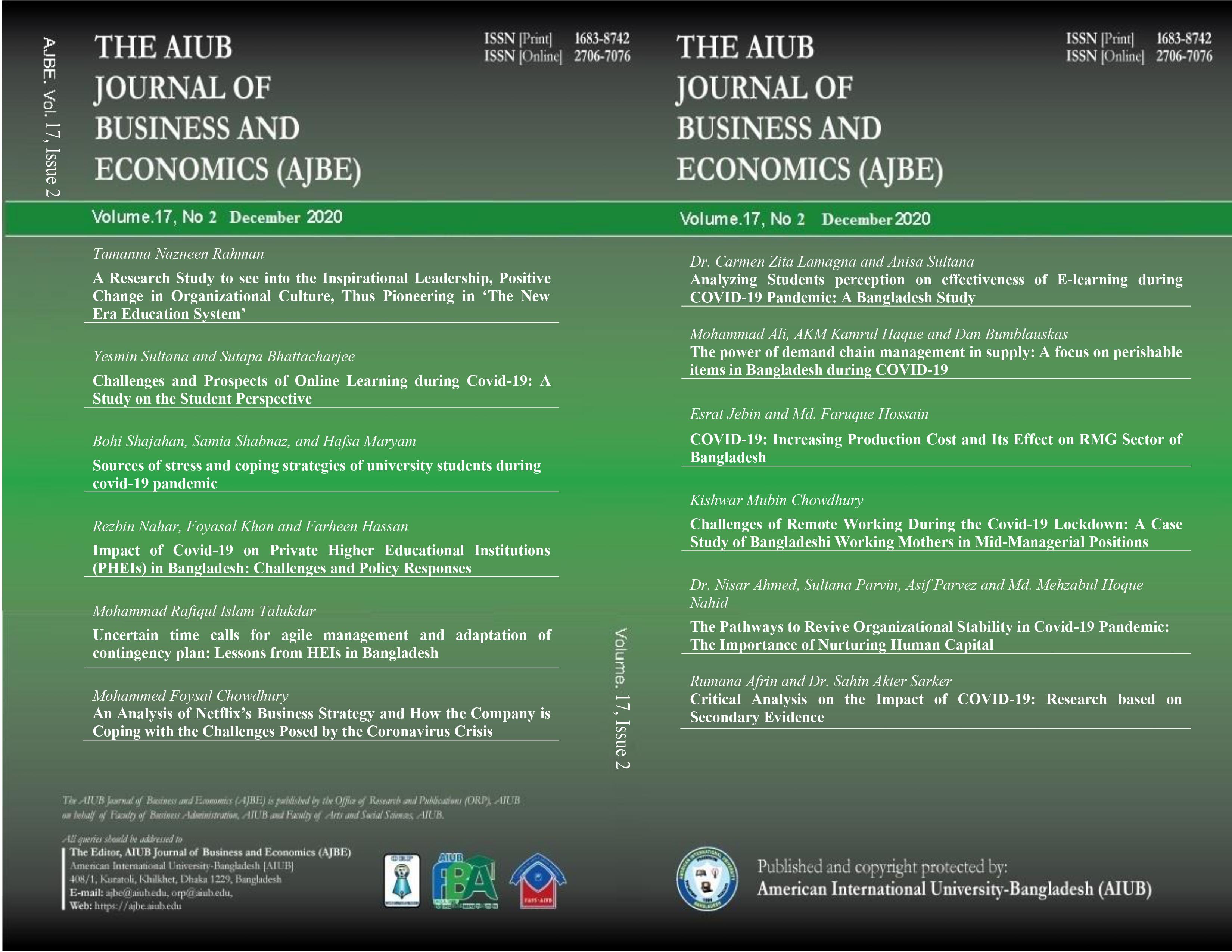 Downloads
How to Cite
Hossain, M. F. (2021). COVID-19: Increasing Production Cost and Its Effect on RMG Sector of Bangladesh. AIUB Journal of Business and Economics, 17(2), 37–68. Retrieved from https://ajbe.aiub.edu/index.php/ajbe/article/view/4