Challenges and Prospects of Online Learning during Covid-19: A Study on the Student Perspective
Keywords:
Challenges, Covid-19 Education, Hybrid Model, Online, Opportunities
Abstract
The shift to online learning is a really commendable step taken in Bangladesh in order to ensure that education remains running and accessible at a mass level. Most of the higher education providers in our country have taken numerous steps to provide online education. However, the current mixed method study – done through a combination of surveys and semi-structured interviews – suggests that there are numerous challenges in the online learning system right at this moment. Internet connectivity, technological difficulties, time-consuming adaptation to the new learning system, and assessment related aspects are the major reported challenges. While these challenges were reported, the respondents also mentioned positive aspects of online learning which includes accessibility to lecture content as per the time convenience of the students which provides them the opportunity to prepare themselves better. Also, the online system provides both the faculties and the students the opportunity to better enrich themselves with relevant content and subject matter from a wide variety of sources. In order to be able to integrate an online learning system or e-learning system in our regular provision of education in the post-Covid times as well, we need to address these challenges, keeping the students' perspective in mind. Just like the renowned education-providers all over the world, education providers in our country can also slowly shift to a hybrid education model which facilitates both online and offline features of learning.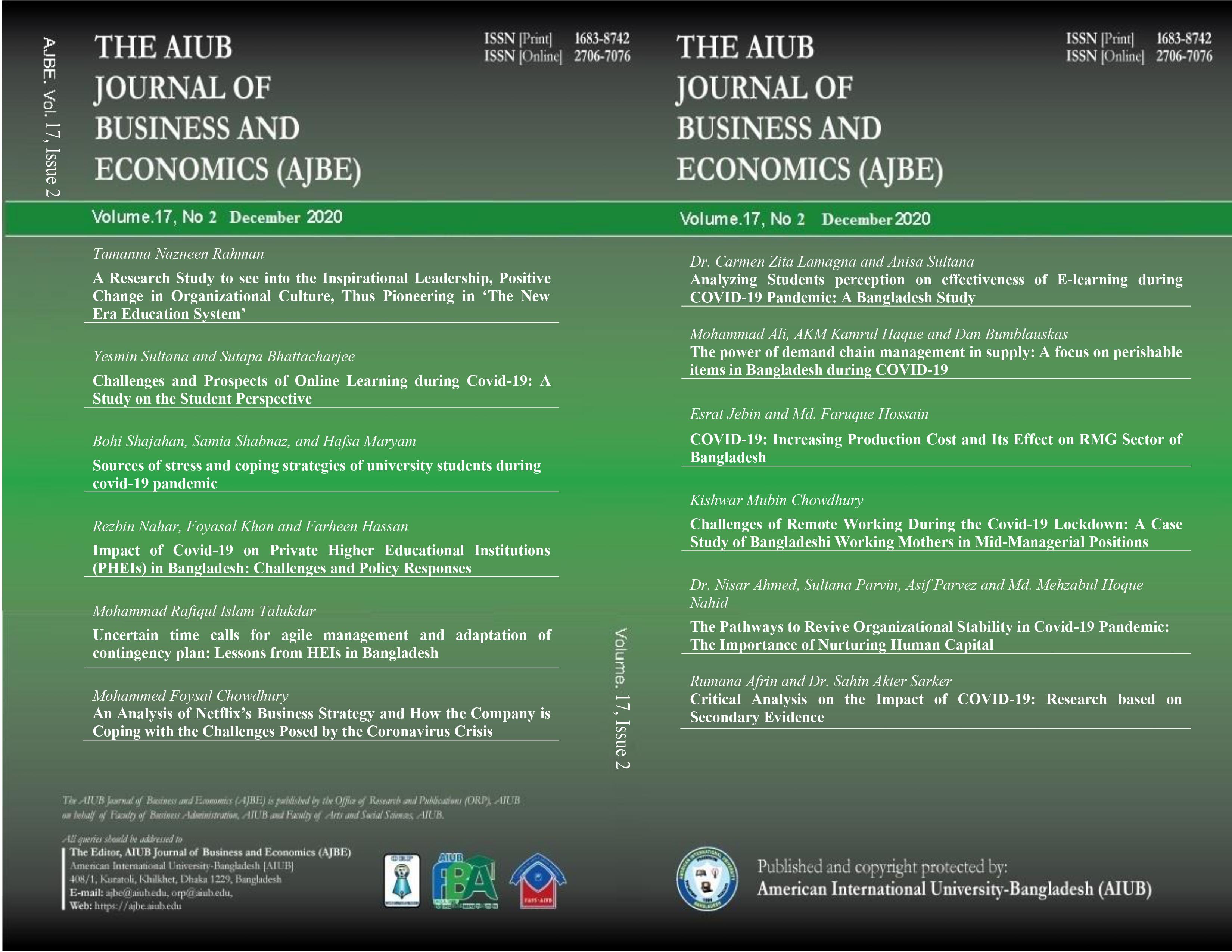 Downloads
How to Cite
Sultana, Y., Bhattacharjee, S., & Shaown, J. I. (2020). Challenges and Prospects of Online Learning during Covid-19: A Study on the Student Perspective. AIUB Journal of Business and Economics, 17(2), 151–170. Retrieved from https://ajbe.aiub.edu/index.php/ajbe/article/view/20