The Pathways to Revive Organizational Stability in Covid-19 Pandemic: The Importance of Nurturing Human Capital
Keywords:
Covid 19, Bangladesh's Economy, Training and Development, Human Capital, Global Crisis
Abstract
The initiation of the appropriate training and development to revive organizational stability during the Covid-19 has been stressed much in literature. Currently, the world is facing such a situation in which a lot of policies have been put forward by the policymakers, but few brought success. This paper, which is based on the secondary sources of information, mainly highlighted the importance of suitable institutional training and development in hopes of nurturing human capital, which is claimed to be highly recommended from both the aspects: country and organizational amid the Covid-19 pandemic. After reviewing numerous studies published lately on the same theme, this paper mainly discusses the emerging issues facing business today, the initiatives taken by the protagonists to safeguard organizational stability both at the national and international levels. The discussion of the paper is focused on the initiatives so far put forward by several organizations to cope with the crisis caused by Covid-19. The study also argues the importance of delegating proper training and development in a form of capacity building for survival during and after the pandemic. The exact approaches to the training and development can be designed by following the footsteps of other
developed countries, which have so far implemented several strategies to overcome the crisis.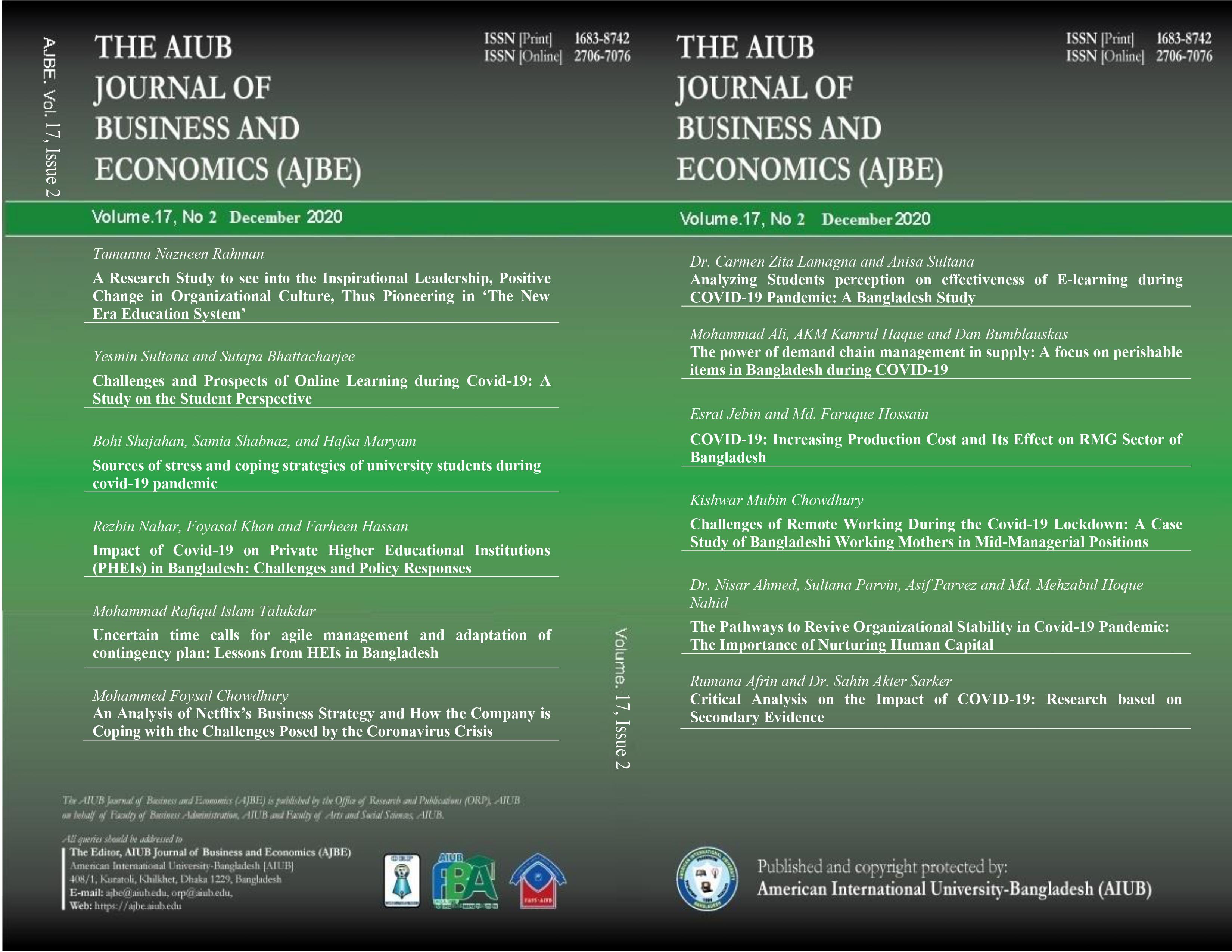 Downloads
How to Cite
Ahmed, N., Parvin, S., Parvez, A., & Nahid, M. M. H. (2020). The Pathways to Revive Organizational Stability in Covid-19 Pandemic: The Importance of Nurturing Human Capital. AIUB Journal of Business and Economics, 17(2), 87–104. Retrieved from https://ajbe.aiub.edu/index.php/ajbe/article/view/11