Effect of the Covid-19 Pandemic on the Purchasing Behavior of Consumers
Keywords:
COVID-19, supply chain, consumer behavior, online shopping, digital transformation
Abstract
The COVID-19 pandemic and the mandates for lockdown and social distancing have affected the purchasing and shopping patterns of consumers. New patterns are being learned by customers. The eruption of the coronavirus (COVID-19) is very much novel viral disease and one of the foremost human disaster worldwide, impacting the lives of millions of people. The purpose of this paper is to discuss the effect of the COVID-19 crisis on the online purchasing behavior of fresh vegetables by consumers after two months of lockdown in Dhaka City. The research is focused on the analysis of the responses obtained from the Dhaka city (N =252) through a nationwide online questionnaire survey. The initial point of this paper is the study of socio-demographic factors prior to the declaration of lockdown in Dhaka city (26 March 2020) on the purchasing decision of fresh vegetables online. Further study was carried out by interpreting the shifts in the buying intentions of these products caused by the COVID-19 crisis before and after the end of the subsequent crisis. The chi-square test and descriptive statistics were employed to explore the changing behavior of consumers. The study found significant changes in consumer behavior while purchasing fresh vegetables through online. The findings indicate digital transformation of consumer behavior due to COVID-19. The findings of the research has important bearing in understanding the changes in consumer behavior that can affect the digital transformation of fresh vegetables supply chains. The study is of the first kind in Bangladesh that explores digital transformation of consumer of fresh vegetables hence, not without limitations. Limitations and future research scope are therefore delineated.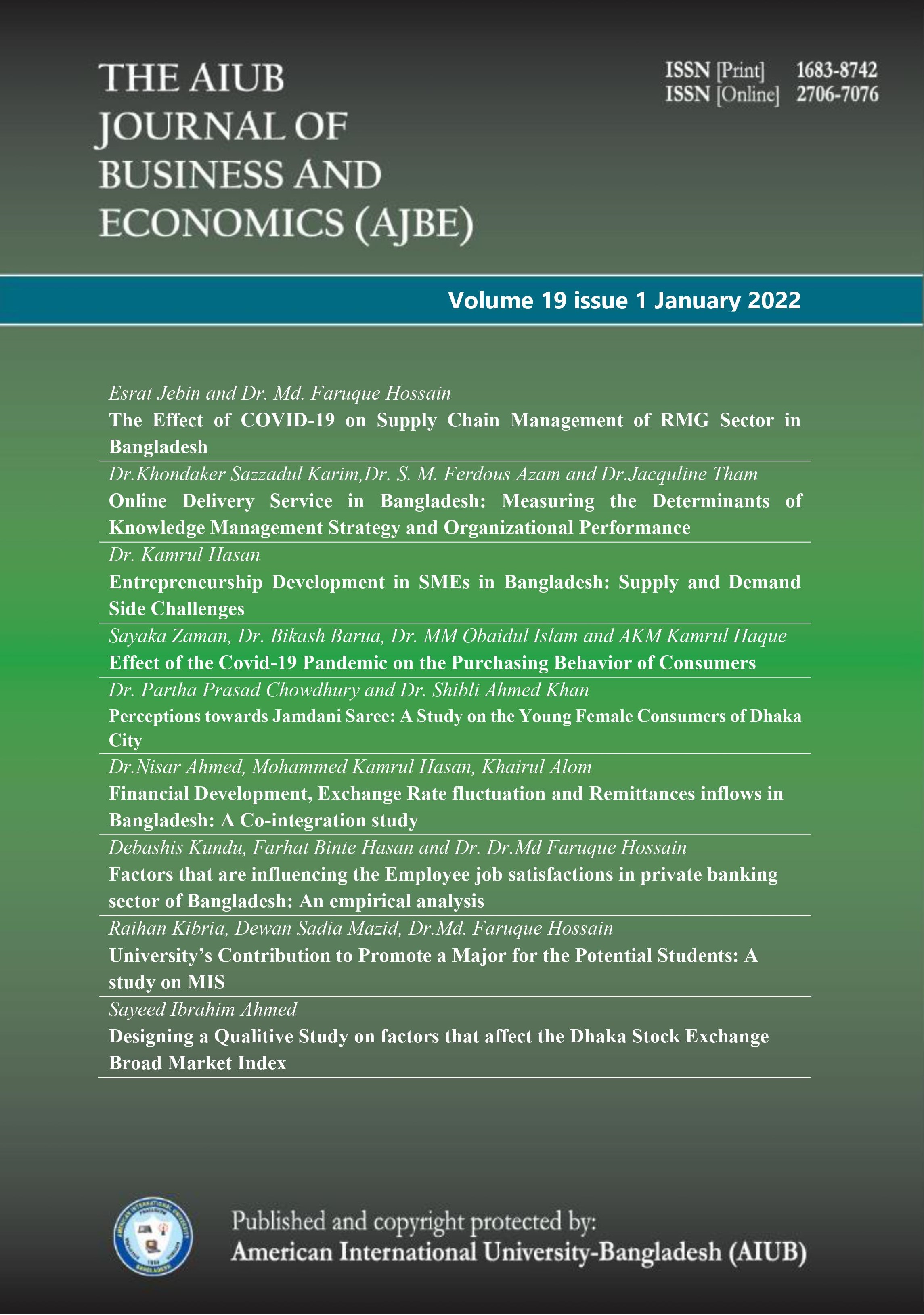 Downloads
How to Cite
Zaman, S., Barua, B., Islam, M. O., & Haque, A. K. (2022). Effect of the Covid-19 Pandemic on the Purchasing Behavior of Consumers. AIUB Journal of Business and Economics, 19(1), 71–96. Retrieved from https://ajbe.aiub.edu/index.php/ajbe/article/view/106