Analyzing Students perception on effectiveness of E-learning during COVID-19 Pandemic: A Bangladesh Study
Keywords:
E-learning;, HEIs;, ICT Infrastructure, Equivalence, Engagement, Assessment, on-line classes
Abstract
The purpose of this study is to explore the learners' perception on online learning in the midst of COVID-19 pandemic. This research applied quantitative method. The subject of this research is the students of private universities in Bangladesh. Two hundred and sixty students completed 29 Likert-type items survey on ICT Infrastructure, Equivalence, Engagement,
Assessment, and Future of on-line classes ranging from 1 (Strongly Disagree) to 5 (Strongly Agree), Data was analyzed through SPSS version 20 and several statistical test has been done. The study found that Higher Education Institutions' (HEIs) ICT infrastructure is highly supportive and maintaining effective communication with teachers, students and parents, however very
less students found on-line classes are equivalent in Quality, Engagement and assessment in comparison to face to face classes. Moreover many participants are found to be disengaged due to the fear, anxiety and stress caused by COVID-19. Learning from home is also disruptive due to complex home environment. Overall, participants strongly believe that on campus study is irreplaceable for better learning, engagement, assessment and interaction. Yet, most of the students expect the mix-method or blended teaching learning facilities as a new normal in education sector after the pandemic.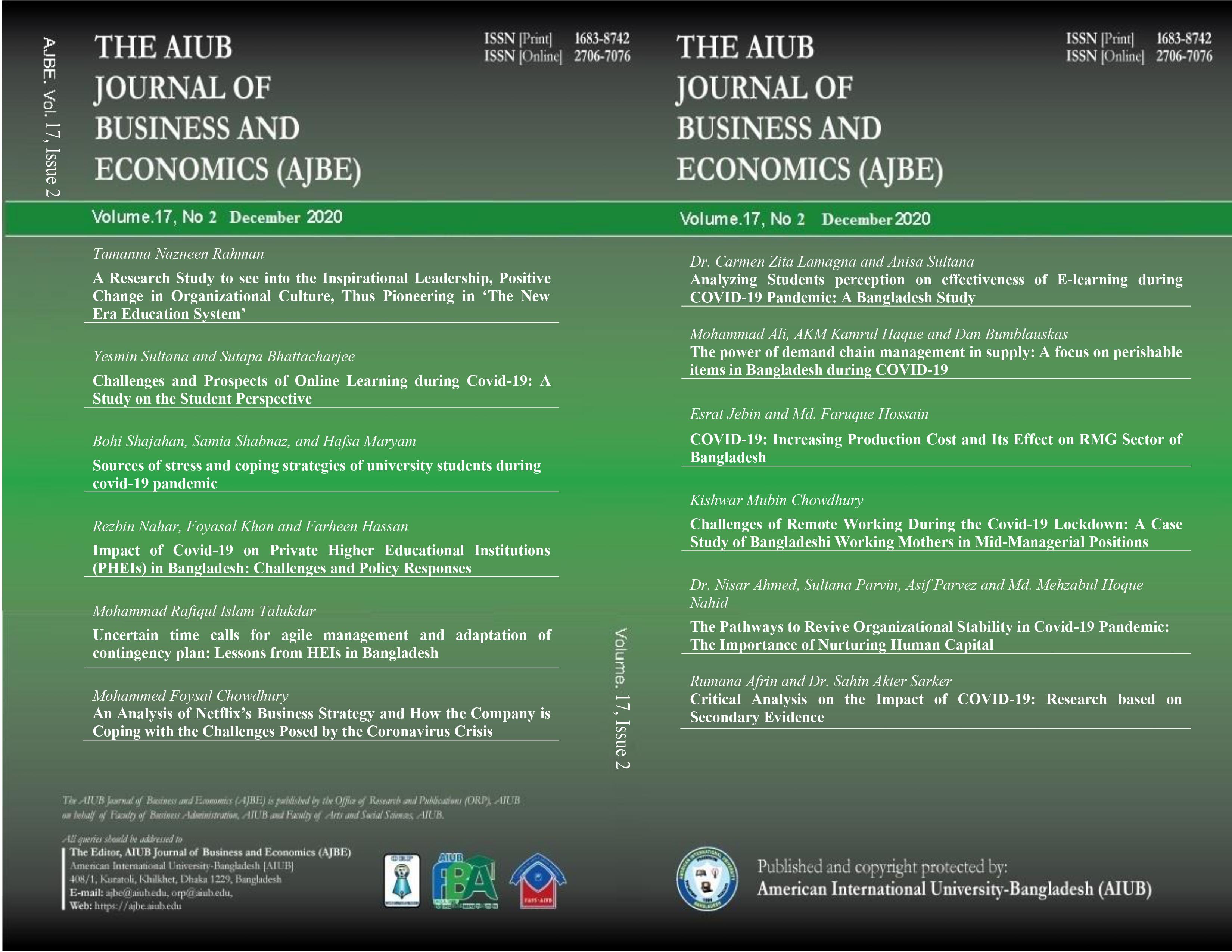 Downloads
How to Cite
Lamagna, C. Z., & Sultana, A. (2021). Analyzing Students perception on effectiveness of E-learning during COVID-19 Pandemic: A Bangladesh Study. AIUB Journal of Business and Economics, 17(2), 1–22. Retrieved from https://ajbe.aiub.edu/index.php/ajbe/article/view/2