Managerial Perspectives on Automation and Human Factors: Evidence from the Bangladeshi Garment Industry
Keywords:
Automation, Displacement, Human Factors, Ready-made Garment (RMG), Compliance
Abstract
Purpose of the study: The aim of this paper is to understand the perception of the human resource managers of the Bangladeshi RMG sectors regarding automation-related displacement and management of related human factors. Overall views regarding automation, related training and compliance issues are investigated too.
Methodology:  Data is mustered by face-to-face interviews using a semi-structured questionnaire, which is analyzed through manual interpretive content analysis. A convenience sampling method is pursued; nonetheless, a proper mix of varied levels of garment factories is assured. 
Findings: Low-skilled workers are mostly displaced due to automation; however, in aggregate it does not decrease jobs. Management is mostly driven by international buyers and compliance requirements while catering to human factors; even if training is considered a vital factor for automation success, the majority of the sampled factories do not have (effective) in-house training facilities.
Implications (practical): These findings will be beneficial to the academic, HR managers of the Bangladeshi RMG industry, regulatory bodies, and related business associations.  
Limitations and Future direction: This study has considered a few samples from the model, above average and average garment factories; hence, generalizations of the conclusion might be questionable.
References
Acemoglu, D., Autor, D. (2011). Skills, tasks and technologies: Implications for employment and earnings, in: Card, D., Ashenfelter, O. (eds.), Handbook of Labor Economics, Volume 4B, Amsterdam and New York, North Holland, pp. 1043-1171.
Acemoglu, D., Restrepo, P. (2016). The Race between Machine and Man: Implications of Technology for Growth, Factor Shares and Employment, National Bureau of Economic Research Working Paper No. 22252, Cambridge, MA.
Acemoglu, D., Restrepo, P. (2017). Robots and jobs: Evidence from US labour markets, National Bureau of Economic Research Working Paper No. 23285, Cambridge, MA.
Ahmed, N. (2012). Economic and Social Upgrading in the Ready-made Garment Sector of Bangladesh: Some experiences, Centre of Policy Dialogue, Dhaka.
Akter, P. (2020). An Overview of the Ready-made Garment (RMG) Sector of Bangladesh: From Origin to the Current State of Pinnacle. The Keizai Ronkyu. 167, 01-18.
Alam, M.N., Azim, M.T., Alias, R.B. (2017). Social Compliance in Ready-Made Garment Industry in Bangladesh: Challenges for HR Personnel. Journal of Applied Environmental and Biological Sciences. 7(10), 8-18.
Alamgir, F., Alakavuklar, O.Z. (2020). Compliance Codes and Women Workers' (Mis)representation and (Non)recognition in the Apparel Industry of Bangladesh. Journal of Business Ethics. 165, 295-310.
Ashwin, S., Kabeer, N., Schüßler, E. (2020). Contested understandings in the global garment industry after Rana Plaza. Development and Change. 51(5), 1296-1305.
Autor, D. Levy, F., Murnane, R. (2003). The skill content of recent technological change: An empirical exploration. Quarterly Journal of Economics. 118(4), 1279-1333.
Azim, M.T., Uddin, M.A., Haque, M.M. (2021). Does compliance to standards in the ready-made garments industry affect employee attitudes? A study in Bangladesh. Global Business and Organizational Excellence. 40(2), 43-58.
Baral, L. M. (2010). Comparative Study of Compliant and Non-Compliant RMG Factories in Bangladesh. International Journal of Engineering & Technology. 10(2), 119-131.
Bengtsson, M. (2016). How to plan and perform a qualitative study using content analysis. NursingPlus Open. 2, 8-14.
Berelson, B.L. (1952). Content analysis in communications research, Free press, New York.
Bessen, J. (2016). How Computer Automation Affects Occupations: Technology, Jobs, and Skills, Boston Univ. School of Law. Law and Economics Research Paper No. 15-49. https://ssrn.com/abstract=269043 (accessed 4 March 2022)
Chowdhury, M., Dewan, M.N., Quaddus, M.A. (2013). Sustainable Supply Chain Management through Compliance of Stakeholders' Requirements: A Study on Ready-Made Garment (RMG) Industry of Bangladesh, PACIS 2013 Proceedings, 269.
CPD (2022). Bangladesh is a developing country. https://cpd.org.bd/bangladesh-transitioning-to-developing-country (accessed 5 July 2022)
Das, B., Dey, P.K., Sumon, M.H., Islam, A., Mukherjee, P., Afroz, K.M. (2021). Compliance issue of ready-made garments industry in Bangladesh: A case study. Global Journal of Engineering and Technology Advances. 09(1), 1-10.
Das, S. (2008). Social Compliance Issues in the Apparel Sector of Bangladesh. http://www.fibre2fashion.com/industry-article/2071/social-compliance-issues-in-the-apparel-sector-ofbangladesh (accessed 2 March 2022)
Dhaka Tribune (2014). Safety compliance- a Make or Break for garments factories. https://mygoldenbengal.wordpress.com/2014/05/06/safety-compliance-a-make-or-break-for-many-garment-factories (accessed 11 April 2022)
Downe-Wamboldt, B. (1992). Content analysis: Method, applications, and issues. Health Care for Women International. 13(3), 313-321.
Elbert C., Gessese N., Konishi Y. (2016). Value Chain Analysis for Polo Shirts, in: Sanjay, K. et. al. (eds.), Attracting investment in Bangladesh - Sectoral Analyses: a diagnostic trade integration study (English), Washington, D.C. 2016: World Bank Group.
Groover, M.P. (2018). Automation, Encyclopedia Britannica. https://www.britannica.com/technology/ automation (accessed 14 March 2022)
HFS (2017). Impact of Automation and AI on Services Jobs:2016-2022. https://www.hfsresearch.com/market-analyses/impact-of-automation-and-ai-on-services-jobs-2016-2022 (accessed 9 March 2022)
Hofstede, G. (1994). Cultures and organizations, HarperCollins, London.
Hsieh, H.F., Shannon, S.E. (2005). Three approaches to qualitative content analysis. Qualitative Health Research. 15(9), 1277-1288.
Krippendorff, K. (2004). Content Analysis: An Introduction to Its Methodology, Sage Publications Inc., Thousand Oaks, California.
Mariani, R.D (2013), Working conditions in the Bangladeshi garment sector: social dialogue and compliance. https://repository.tudelft.nl/islandora/object/uuid:33c040ea-c468-49ca-bce7-2d0e9f0a098c?collection= education (accessed 17 March 2022)
Mausumi, N., Rahman, M.M. (2018). Impact of Stakeholer Initiatives: Bangladesh Garment Industry, SCMS Journal of Indian Management. April-June, 31-41.
Mohibullah, A., Takebira, U., Moni, K., Rahman, M. (2018), Social compliance, occupational health and environmental safety management practice in the apparel industry of Bangladesh: An overview. Journal of Textile Science & Engineering. 8(2), 1–5.
Moray, N. (2000), Culture, politics and ergonomics. Ergonomics. 43, 858-868.
Muku A.Z.A., Rayhan, S.J., Haque, F., Islam, F. (2013). Job Characteristics Model of Hackman and Oldham in Garment Sector in Bangladesh: A Case Study in Savar Area in Dhaka District. International Journal of Economics, Finance and Management Science. 1(4), 188-195.
Neuendorf, K. (2002). The content analysis guidebook, Sage Publications Inc., Thousand Oaks, California.
Oxford Martin School (2016). Technology at Work v2: The Future Is Not What It Used To Be. http://www.oxfordmartin.ox.ac.uk/downloads/reports/Citi_GPS_Technology_Work_2.pdf (accessed 9 March 2022)
Parasuraman, R. (1997). Human and Automation, Use, Misuse, Disuse, Abuse. Human Factors. 39(2), 230-253.
Ramaswamy, K. (2018). Technological Change, Automation and Employment: A Short Review of Theory and Evidence, Indira Gandhi Institute of Development Research, Working Paper No. 2018-002, Mumbai.
Salas, J.A., Canoon, B. (2001). The science of training: A decade of progress. Annual Review of Psychology. 52, 471-499.
Schumacher, E.F. (2001). Cited in 'knowledge worker's hold key of garment industry's future' by Ramaswamy, The Indian Textiles Journal. Feb. 2001, 133-135.
Shadat, W.B., Rahman, M.T., Rahman, K.M., Hawlader, A. (2016). Cost Benefit Analysis of RMG Compliance to Increasing Presence of Ready-Made Garments (RMG) and New Specialized RMG Industry Zone, Bangladesh Priorities, Copenhagen Consensus Center. https://www.copenhagenconsensus.com/sites/default/files/bin_shadat_rmg.pdf (accessed 2 April 2022)
Sheridan, T. B. (1980). Computer control and human alienation. Technology Review. October, 60-73.
Sheridan, T.B., Parasuraman, R. (2005). Human-Automation Interaction. Reviews in Human Factors and Ergonomics. 1(1), 89-132.
Stone, P., Brooks, R., Brynjolfsson, E., Calo, R., Etzioni, O., Hager, G. (2016). Artificial Intelligence and Life in 2030, Stanford University, Stanford, CA.
Textile Today (2022). BGMEA Urges RMG factories for skill based development training. https://www.textiletoday.com.bd/bgmea-rmg-factories-skill-based-development-training (accessed 5 May 2022)
Watts, R.L., Zimmerman, J.L. (1986). Positive Accounting Theory, Prentice-Hall Inc., Englewood Cliffs.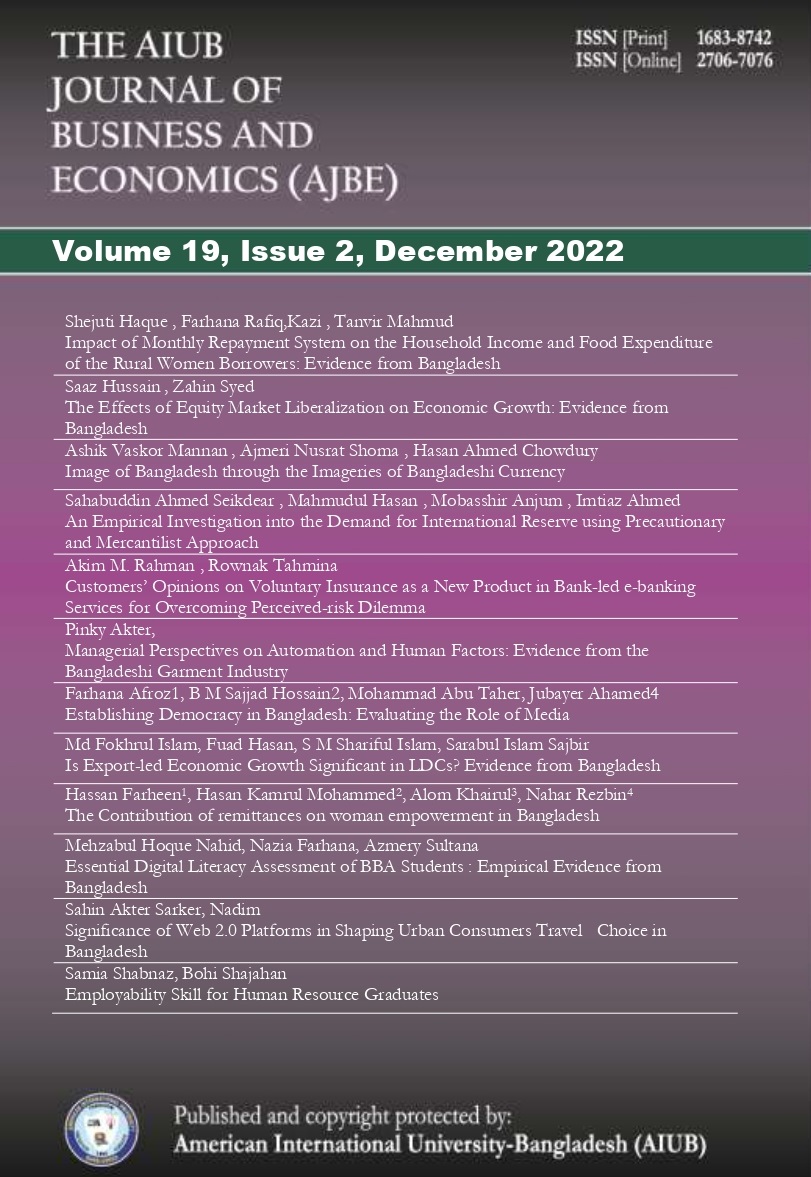 Downloads
How to Cite
Akter, P. (2022). Managerial Perspectives on Automation and Human Factors: Evidence from the Bangladeshi Garment Industry. AIUB Journal of Business and Economics, 19(2), 65–80. Retrieved from https://ajbe.aiub.edu/index.php/ajbe/article/view/134
License
Copyright (c) 2022 AIUB Journal of Business and Economics
This work is licensed under a Creative Commons Attribution-NonCommercial 4.0 International License.