Image of Bangladesh through the Imageries of Bangladeshi Currency
Abstract
Purpose of the Research: This research tried to explore the trend of the images printed on Bangladeshi 'Taka' and tried to open up the probable reason behind selecting the significant images by identifying the chronological change of circulated images in Taka.
Methodology: In this research, analysis of transition of images on Taka in different time periods after independence (1971) in respect of the political and economic state of Bangladesh has been portrayed. Chronological developments of Taka and the comparisons with international currency images have been done to reveal the 'image of Bangladesh'. To perform these, several instruments are applied like field survey, observation and literature review. Only paper notes have been considered for the research.
Core findings: There will hardly be a country in the world that does not have its own currency. Images on that currency definitely are the most applied advertisement for that country which we may overlook mostly. This paper addressed that our Taka not only represent our living heritage where we can discover agrarian society, uniqueness of landscape, architecture, national emblems, national heroes, but also reveal our culture, religion, economy and development with nationalist ideology.
Research Implications: Each country has its own unique currency. Inevitably we all have to use currency on a daily basis and willingly or not willingly have to glance at the note and the images on it. These images of the currency of each country represent their own history, identity, culture over time. Bangladesh is also not behind in this learning. These illustrations create an image on the user's mind where they find the agrarian, riverine Bangladesh through the imageries of Bangladeshi currency. This analytical paper may reveal a new source to understand Bangladeshi culture and nationalistic sprit and can become a resource for the anthropologist and historian.
Limitation and future directions: It is a critical and theoretical analysis on an intriguing topic which we usually overlook mostly. Firsthand interviews with the decision makers, who are authorized to select the images on Taka could make the research deeper. 
Keywords: Money, Taka, Image, Currency, Note, Culture.
Paper type: Research paper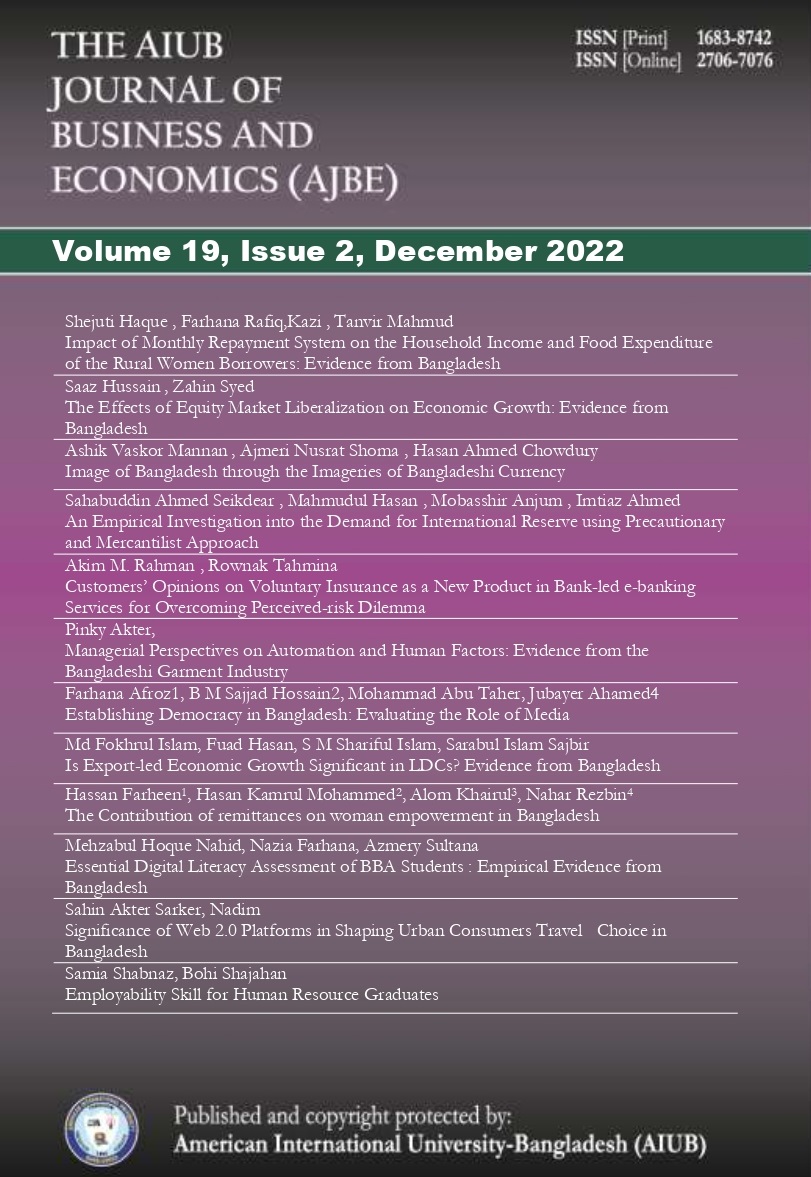 Downloads
How to Cite
Shoma, A. N., Mannan, A. V., & Chowdury, H. A. (2022). Image of Bangladesh through the Imageries of Bangladeshi Currency. AIUB Journal of Business and Economics, 19(2), 25–37. Retrieved from https://ajbe.aiub.edu/index.php/ajbe/article/view/132
License
Copyright (c) 2022 AIUB Journal of Business and Economics
This work is licensed under a Creative Commons Attribution-NonCommercial 4.0 International License.