A Research Study to Delve at Inspirational Leadership, Positive Change in Organizational Culture, and thereby Paving the way for 'The New Era Education System.'
Keywords:
Leadership, Leadership Behaviour, New Era Education System, COVID 19 Pandemic, Hybrid Learning, Blended Learning, Virtual, Employees, transformational leader, transitional leader, Bangladesh
Abstract
This study narrates, how leaders can change their organisation to battle through the worst of situation to gain victory in the pandemic situation caused by COVID 19 in Bangladesh. Hence, this study projects the leadership which has shaped AIUB as a true leading organisation in term of education in Bangladesh. Even though the lockdown created people to stay at home, the leaders in AIUB brainstormed to keep education and lives safe. And this is the first organisation in Bangladesh to initiate hybrid and blended learning in education system in Bangladesh and setting an example to be the true pioneer. These leaders of AIUB came to rescue lives, education, wellbeing of their employees and teachers and caused a revolutionary forwardness in tertiary education with their extraordinary vision, strategy and their true leadership behaviour which can be called 'The New Era Education System'. This is an ideology mixed with strategy taken by these leaders to overcome any battle to reach the organisational goal and never stopping to spread the power of knowledge. This research has been taken up by the researcher to answer the quenching questions on- how to restore balance in education and keep organisation remain as a normal and fully functional state, by 'leader' and how can this be attained during a time of crisis in the context of Bangladeshi education and Bangladeshi Private Organisation: COVID19 Pandemic.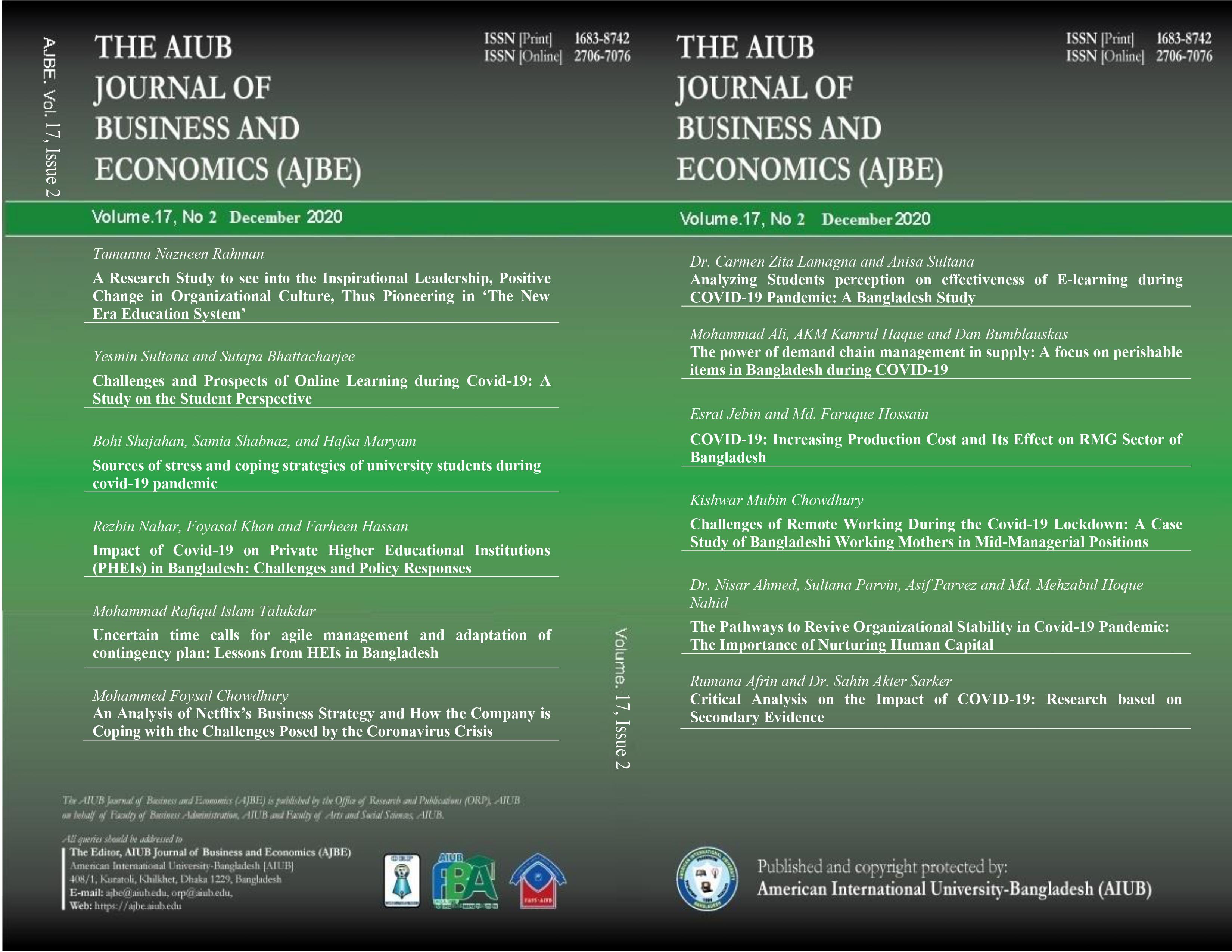 Downloads
How to Cite
Rahma, T. N. (2020). A Research Study to Delve at Inspirational Leadership, Positive Change in Organizational Culture, and thereby Paving the way for 'The New Era Education System.'. AIUB Journal of Business and Economics, 17(2), 129–150. Retrieved from https://ajbe.aiub.edu/index.php/ajbe/article/view/13