Essential Digital Literacy Assessment of BBA Students : Empirical Evidence from Bangladesh
Keywords:
Digital Literacy, Information Literacy, BBA, Business Applications, Office Management Technologies
Abstract
Purpose of the study: The purpose of this study is to explore the underlying digital literacy competence and perceptions of business school undergraduate students.
Methodology: 412 BBA students from American International University- Bangladesh participated in a series of assessments to assess their digital abilities, perspectives, and conceptions of digital literacy. Using a quantitative research approach, this study compared empirical data.
Findings: The result provided insight into the possessed skills and revealed students need more assistance developing higher-order digital literacy abilities. The competence findings revealed that just one-third of them could manage to do what they claimed. Due to the tendency of low performers to exaggerate their abilities, self-evaluation surveys fall short in the practical assessment. In terms of some specific fields, the students did better scores compared to the self-assessment task.
Implications: The findings of this research add to our knowledge of the difficulties associated in the area of teaching digital literacy in business schools. Examining students' reflections may help to broaden the scope of digital literacy instruction in business school programs.
Limitations and Future direction: A significant drawback of this research is the small sample size collected from one organization and the lack of diversity in sampling across all three rounds.
Value: Additionally, this study will stimulate additional research to inform official policy regarding the development of digital literacy strategies, information literacy policies, and the design of valid and relevant digital literacy curriculum content for business students and possibly the larger higher education community in digitally divided developing nations.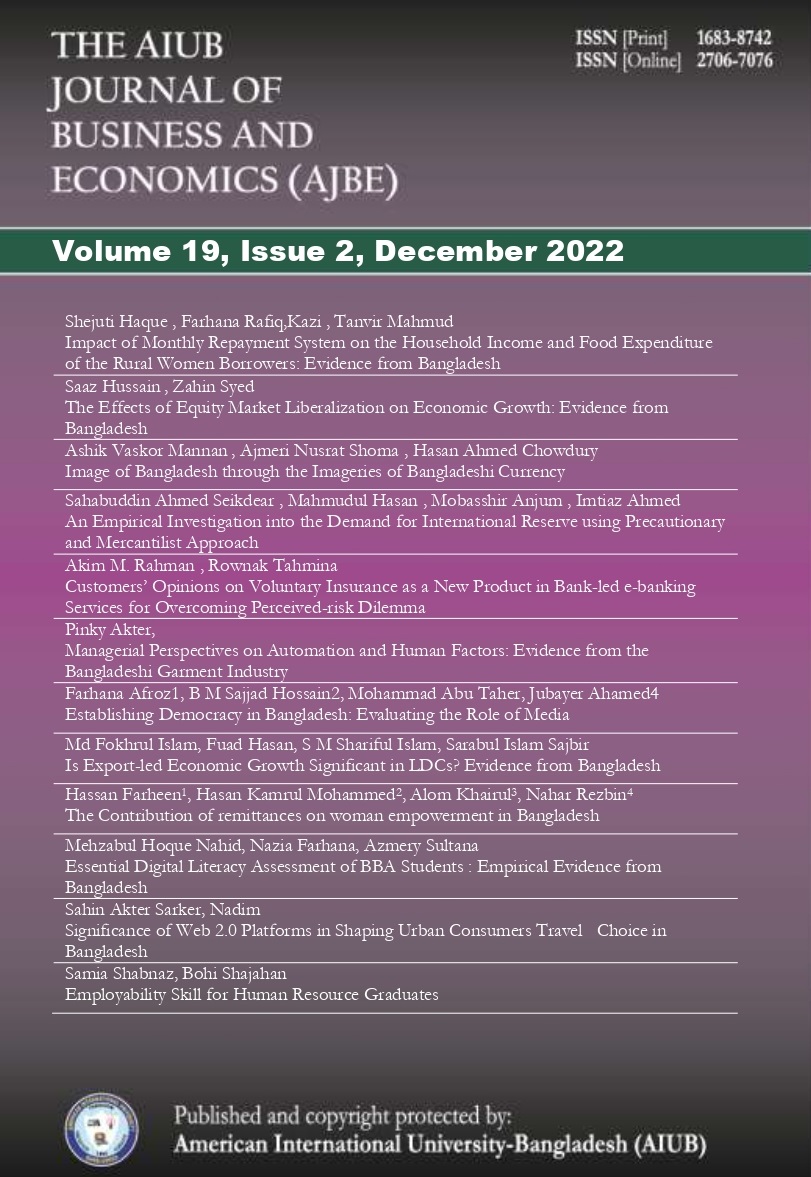 Downloads
How to Cite
Nahid, M. H., Farhana, N., & Sultana, A. (2022). Essential Digital Literacy Assessment of BBA Students : Empirical Evidence from Bangladesh. AIUB Journal of Business and Economics, 19(2), 120–133. Retrieved from https://ajbe.aiub.edu/index.php/ajbe/article/view/ajbe19-2-10
License
Copyright (c) 2023 AIUB Journal of Business and Economics
This work is licensed under a Creative Commons Attribution-NonCommercial 4.0 International License.